[fusion_builder_container hundred_percent="no" equal_height_columns="no" menu_anchor="" hide_on_mobile="small-visibility,medium-visibility,large-visibility" class="" id="" background_color="" background_image="" background_position="center center" background_repeat="no-repeat" fade="no" background_parallax="none" enable_mobile="no" parallax_speed="0.3″ video_mp4="" video_webm="" video_ogv="" video_url="" video_aspect_ratio="16:9″ video_loop="yes" video_mute="yes" video_preview_image="" border_size="" border_color="" border_style="solid" margin_top="" margin_bottom="" padding_top="" padding_right="" padding_bottom="" padding_left=""][fusion_builder_row][fusion_builder_column type="1_1″ layout="1_1″ spacing="" center_content="no" hover_type="none" link="" min_height="" hide_on_mobile="small-visibility,medium-visibility,large-visibility" class="" id="" background_color="" background_image="" background_position="left top" background_repeat="no-repeat" border_size="0″ border_color="" border_style="solid" border_position="all" padding="" dimension_margin="" animation_type="" animation_direction="left" animation_speed="0.3″ animation_offset="" last="no"][fusion_text]
Using gold nanoparticles to deliver anticancer drugs directly to the tumor site
---
---
Drug delivery using gold nanoparticles has the potential to target the drug to the tumor, thus reducing side effects and increasing effectiveness.  We are working with the biotech company Cytimmune Inc. to target pacilitaxel (Taxol) to tumors using gold nanoparticles linked to the tumor-targeting agent TNFa.  Preliminary studies have shown that the construct is effective in mice at a tenfold lower dose that pacilitaxel alone.  We are also working to develop a nanoparticle formulation of doxorubicin.  Doxorubicin is an effective anticancer drug but is limited by cardiotoxic side effects; it is likely that these side effects can be reduced by tumor targeting, thus increasing the benefits of the drug.
The colloidal gold nanoparticles, in addition to serving as the platform for assembling the nanodrug, also limit the biodistribution of the drug to tumors by passively extravasating the leaky tumore vasculature.  Second, the PEG-thiol hydrates the nanoparticle drug and in so doing prevents its initial uptake and clearance by the reticuloendothelial system (RES).  the particle size, whether core or hydrodynamic, and the ability to shield the nanoparticles from immune recognition prevents uptake of the nanodrug by healthy organs and tissues.  Third, TNF serves as a tumor targeting ligand, enhancing the retention of the nanodrug in the tumor, and also acts therapeutically.  And last, the colloidal gold-bound pacilitaxel analog is a prodrug of limited bioactivity until it is converted by hydrolysis at the tumore site to pacilitaxel, which then acts as a second anticancer agent.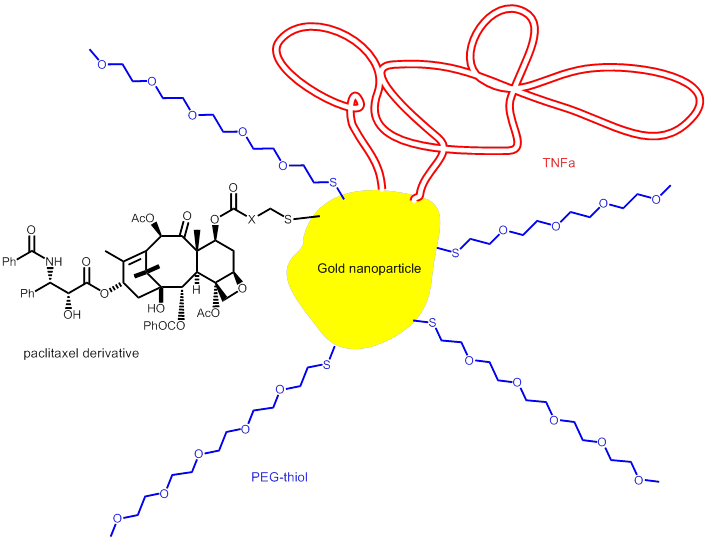 Selected References
Paciotti, G. F.; Kingston, D. G. I.; Tamarkin, L. Colloidal Gold Nanoparticles: A novel nanoparticle platform for developing multifunctional tumor-targeted drug delivery vectors. Drug Devel. 2006, 67, 47-54.
Powell, A. C.; Paciotti, G. F.; Libuttie, S. K. Colloidal Gold: A novel nanoparticle for targeted cancer therapeutics.  Methods Mol. Biol. 2010, 624, 375-384.
[/fusion_text][/fusion_builder_column][/fusion_builder_row][/fusion_builder_container]